President's Message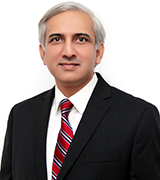 Prof. Muhammad Moin
President
OSP, Lahore Branch
Dear Colleagues, 
On behalf of the Ophthalmological Society of Pakistan, Lahore Branch, I welcome you to the website of our society. Our vision is to promote science and art of ophthalmology among our members. We strive to foster cooperation between our members, organize annual conference & seminars, promote prevention of blindness, create awareness for our patients and advocate for the rights of ophthalmologists.
The Office bearers and executive committee members of the society is a mixture of young and senior ophthalmologists of Lahore and I delighted to be their team leader. During our tenure we plan to promote education, develop human resource and build infrastructure. OSP, Lahore plans to hold the 20th Afro Asian Council of Ophthalmology meeting in Lahore along with its annual meeting. This will bring renowned Ophthalmologists from across the World to share their experiences with ophthalmologists all across Pakistan.
OSP, Lahore has always been at the forefront of Ophthalmological innovations in Pakistan. We plan to work on developing collaboration with international ophthalmological organizations to provide more services to our members.